DRC: Breaking the Links between Natural Resources and Conflict in Eastern DRC
UNIVERSAL PERIODIC REVIEW (19TH SESSION)
SIDE EVENT on DRC
29 April 2014 from 14:00 to 16:00, Palais de Nations, Geneva (Room TBA)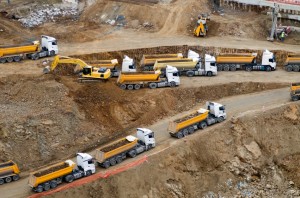 After last month's successful high-level side event titled, "DRC: Breaking the Links between Natural Resources and Conflict," during the 25th Session of the Human Rights Council (HRC), a second high-level side event supported by CCIG regarding the DRC and 'conflict' minerals will be held on 29 April 2014 at Palais de Nations in conjunction with the 2nd UPR of the DRC. The event is organized by CCIG, EurAC and Franciscans International in collaboration with Caritas Genève, Fastenopfer and FH Switzerland.
CCIG hopes that the progress made during the previous side event and the following advocacy action will strengthen the discussion for the 2nd UPR of the DRC. The side event will offer an occasion to address the human rights situation in Eastern DRC by tackling the role of 'conflict' minerals and the links with the security sector, which were discussed in the previous side event. Additionally, it will provide a space for discussion and cooperation with the DRC regarding the implementation of recommendations that will be presented during the review by UPR Working Group Member States, specifically on 'conflict minerals' and repercussions on human rights of those living in mining areas, including children and women. Concrete and effective measures need to be undertaken by the Government in partnership with Civil Society Organizations, in order to tackle the cycle of violence and poverty associated with extractive industries in the DRC.
Related articles: A Joint Initiative on DRC: High-level Side Event on 'Conflict' Minerals, DRC: Breaking the Links between Natural Resources and Conflict, Due Diligence and Access to Remedy in the Context of Extractive Industries