While its request of ECOSOC status at United Nations is discussed in New York by the committee in charge of NGOs' applications, CCIG held its General Assembly  (GA) in Geneva, on May 20th 2014. Thirty one collective and individual members attended the GA. Three new members of CCIG Board have been elected: Brian Bond, Representative of Edmund Rice International; Laurence Kwark, former Secretary General of Pax Romana; and Félix Wertli, Counselor for the Swiss delegation at WTO (For further information, click here. In the meantime, the Assembly reports the resignations of Annemarie Mayer (now lecturer in Louvain), Muriel Delaye and Richard Werly, CCIG vice-president since 1996.
The 2014 action plan, currently in execution, mainly foresees a reinforcement of the collaboration with CIDSE – the International Alliance of Catholic Development Agencies in Europe and North America. CCIG 2014 activities also included two events organized in partnership with several organizations over the issue of mining and human rights, with the special attention to the case of Democratic Republic of Congo that had been examined in April in the framework of the Universal Periodic Review mechanism of the Human Rights Council. Jean-Benoît Charrin, CCIG president, thanks warmly Maria D'Onofrio, CCIG secretary general, for her work. "She gives precious information and an unquestionable operational support", one of the members said.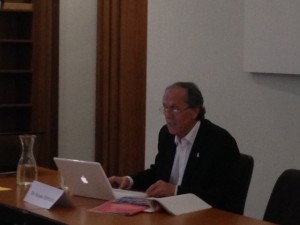 The General Assembly has been followed by a conference by Ricardo Espinosa, former manager of NGOs liaison office at UNOG. He highlighted the existence of a multiplicity of statuses despite the 1996 reform that opened the observer possibility to national NGOs. But the recognition of NGO observer status at the UN still depends on governments' decisions; they can always hamper an NGO when its activities are not convenient for them. When it's about granting or withdrawing the observer status, governments are complainant, judge and jury at the same time. NGOs current challenge is to strengthen their professional profile, even modestly, and to work together in order to reinforce their effectiveness.