Photos of the event have been made available online by Wally Perusset Photographie Geneve Lausanne.
Geneva, Switzerland. On 31 January 2016, at Victoria Hall, the Parish of Sainte Clotilde and International Catholic Center of Geneva (CCIG) came together to recognize the entry into force in Switzerland of International Labor Organization's Convention No. 189 through the celebratio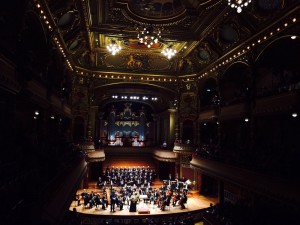 n of music. In front of an audience of 1,200 people, including the  mayor of Geneva, Esther Alder; the evening commenced with introductions by CCIG board member Pascal Gondrand, CCIG president Félix Wertli and the president of the Sainte Clotilde Parish Council Ms. Sandra Golay. Further remarks from ILO and Canton of Geneva representatives illustrated the significance Convention No. 189 will have in the lives of domestic workers. Under the musical direction of Stanislava Nankova, with performances by soprano Danalia Dimitrova, Bass Seok-gill Choi, violinist Andreas Bottaro and La Chorale de Brassus played the work of Mozart, Bellini, Rossini, Pucchini, and Verdi. As President Félix Wertli commented music provides the perfect occasion to commemorate decent work for domestic workers by bringing people together regardless of race, religion, or gender.
President Félix Wertli recounted the story of a woman under the alias Mrs. Elvira S., who left Portugal in order to provide for her family. She worked as a caregiver to children for a Portuguese family in Geneva, without social and health security for five years. Elvira never learned French. Working fourteen-hour days, she received room and lodging. The family failed to help her declare, so lived and worked on "holiday in Switzerland" responsible for paying her own medical bills. When the fa
mily fired her with one week notice, she remained jobless and with no legal rights. Many domestic workers, mainly women immigrating from different countries, have been subjected to the same failures of the system. Elvira's testimony and accounts of other domestic workers can be read in brochures produced by CCIG and Saint Clotilde in French and English about Convention No. 189.
ILO's Convention No. 189 works to prevent and ensure that the domestic workers rights are upheld and guaranteed. Switzerland's entry into force of Convention No. 189 is another step to address the mistreatment and ensure proper rights for domestic workers. The CCIG continues the advocacy and promotion for equal treatment of domestic workers by striving to foster acceptance and implementation of Convention No. 189, not only in Geneva, but also in the international community. Additionally, CCIG and Saint Clotilde created a checklist available in French, English, Portuguese and Spanish as a resource to inform workers and employers of their rights.