On the 12th March 2020 the UPR Working Group Report on Bolivia was adopted at the 43rd Session of the Human Rights Council.
Bolivia accepted 206 and took note of 31 out of the 238 recommendations received during the 34th UPR session. One recommendation was partially accepted.
The CCIG, on behalf of a NGO coalition consisting of Edmund Rice International, Fondazione Marista per la Solidarietà Internazionale, Istituto Internazionale Maria Ausiliatrice, Société Saint Vincent de Paul, and Teresian Association, delivered an oral statement under Item 6 – Consideration of the UPR Outcomes of Bolivia. The statement was drafted with the support of RUN Bolivia, a network of several NGOs that had contributed to the UPR of their country, bringing to the attention of the international community on the alarming escalation of violence against children, adolescents and women in Bolivia.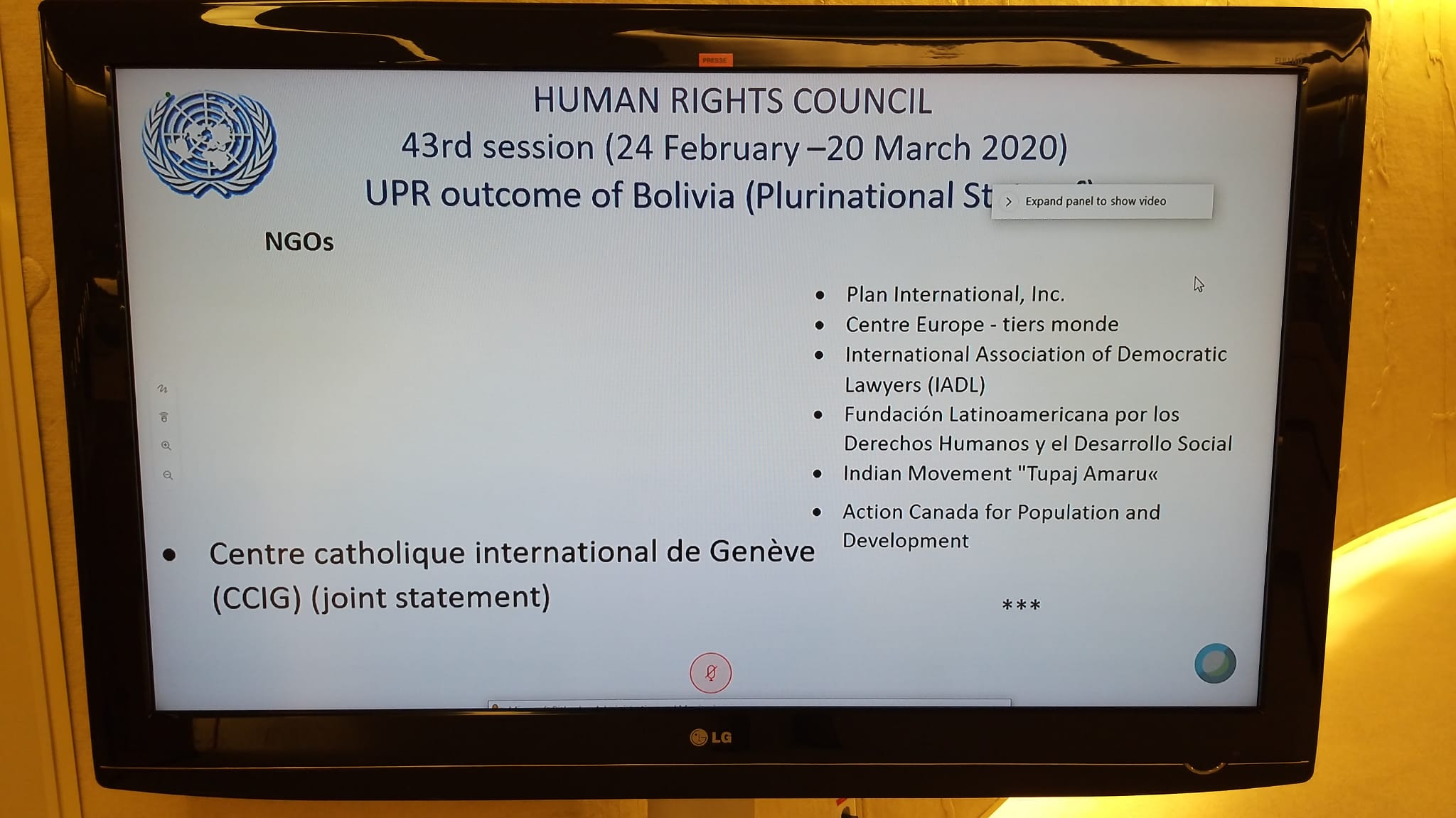 Sixty-six infanticides were reported in 2019 and 14 cases in 2020, only up to February 20. With regard to violence against women, 117 femicides were registered in 2019, leaving 131 orphaned children. In 2020, there were 24 femicides within the first two months of the year.
The NGO coalition led by CCIG called on the government of Bolivia to ensure prompt and effective implementation of UPR recommendations concerning violence against children, adolescents and women. More specifically, it was recommended to: (i) continue its efforts to strengthening institutions in charge of assisting children, adolescents and women victims of violence, including through qualified personnel; and (ii) ensure adequate budget allocation to implement shelters for victims in municipalities and governorates as well as foster specific programs for the empowerment of women
In reply, the Bolivian Vice-Minister of  Justice highlighted to the Human Rights Council how 2020 was declared the year of the fight against violence in Bolivia. As a result, the elaboration of a plan of action for the eradication of violence against children, adolescents and women has been initiated. Moreover, extraordinary resources will be allocated to address cases and ensure  protection both at the departmental and municipal level.
The video of the oral statement delivered by CCIG is available here. To watch the whole discussion on the UPR outcomes of Bolivia at the 43rd HRC, please click here.