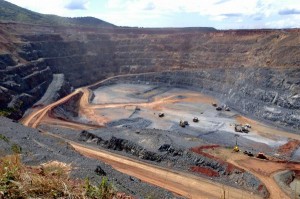 In conjunction with the 2nd UN Annual Forum on Business and Human Rights, a conference on "Addressing Justice, Due Diligence and Access to Remedy in the Context of Extractive Industries: Cases in the Philippines, Mozambique, Southern Africa, Palestine and Thailand" was organized by CCIG, Franciscans International, Fastenopfer, Misereor, ACT Alliance and Al-Haq on 3 December 2013. Representatives from affected communities worldwide attended as panelists to speak about due diligence and mandatory remedies in the broader context of the UN Guiding Principles on Business and Human Rights (UNGP on BHR). The UN adopted the principles in June 2011 as an instrument for the protection of communities' human rights affected by extractive industries.
Also in attendance was an impressive turnout of various Civil Society stakeholders, NGOs, as well as community and business members. The event was an opportunity for stakeholders to participate in an open forum to discuss and share strategies on implementing and improving efficiency the UNGP on BHR. The principles outline the protection of human rights and assuming responsibility for and remedying abuses when they occur by businesses in communities that are affected by extractive industries. The event concluded with further suggestions for successful implementation and a call to action for both business and community members to remain vigilant in the face of human rights abuses towards communities affected by extractive industries worldwide.
CCIG hopes that this event in the context of the 2nd Annual Forum and the ongoing movement towards greater responsibility, diligence and accountability by business communities internationally can help better improve the lives and communities of those affected.
For further information on the outcome of the event, please refer to the document attached.