UPR Platform (following)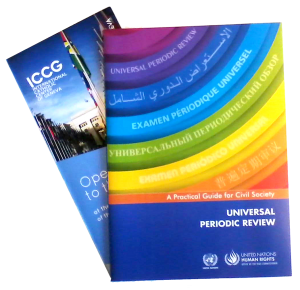 Background
In December 2011, in light of the conclusion of the 1st UPR cycle, a group of NGOs met at CCIG to:
Assess the contributions provided by each NGO to the UPR process by sharing both the difficulties and the successes experienced; and
Envisage new forms of collaboration in order to facilitate more effective lobbying actions.
The second review cycle is crucial for ensuring effective follow-up on the commitments made by governments during the first cycle. Thus, participants have set their future priorities and, in order to achieve them, they have agreed on the following actions:
Develop joint reports to be submitted to the Office of the High Commissioner for Human Rights (OHCHR)  in the context of UPR sessions;
In recognition of the crucial role played by local actors, raise awareness among human rights defenders working at the local level to enable them to become more involved in effective monitoring of state policies and actions.
Foster spaces for reflection and open discussion for NGOs involved in the UPR and organize "pre-sessional briefings" of countries subject to review.
Work Method
Based on the list of countries that will be subject to review during the next UPR session, Platform members have identified the countries they will be working on and have formed "country groups" within the platform. Each group has appointed a contact person responsible for facilitating and coordinating the work of the group in an effort to write a joint report on the concerned country. Moreover, the members of the Platform share practical tools they have elaborated to collect information among their own members in the field, as well as practical suggestions for the optimization of resources resulting from their experiences.
Added Value
The UPR platform, promoted by CCIG, provides a space open for all to understand and learn from each another, in a simple but effective manner. Participants share a common goal: the advancement of human rights everywhere in the world without any distinction.
Plateforme EPU (suite)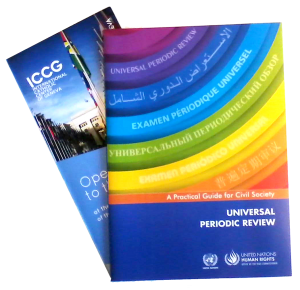 Origine
En décembre 2011, compte tenu de la conclusion du 1er cycle de l'EPU, un groupe d'ONG s'est réuni au CCIG pour :
(i) faire un bilan des contributions données à l'EPU en partageant les difficultés rencontrées et les succès obtenus ; et
(ii) envisager des nouvelles modalités de collaboration afin de réaliser une action de lobbying plus efficace. En effet, le 2ème cycle de révision sera crucial pour assurer une suite efficace aux engagements pris par les gouvernements lors du 1er cycle.
C'est pourquoi, les participants à la Plateforme EPU ont identifié les priorités de leur action future et les activités à réaliser pour atteindre ces buts:
(i) élaborer des interventions conjointes à déposer auprès du Haut Commissariat aux droits de l'homme (HCDH) dans le contexte des sessions de l'EPU;
(ii) en reconnaissant le rôle prioritaire des acteurs locaux, sensibiliser les défenseurs des droits de l'homme sur le terrain afin qu'ils puissent devenir les « outils de monitoring » les plus efficaces;
(iii) stimuler des espaces de réflexion ouverts à toute ONG engagée dans le EPU et organiser des « pre-sessional briefings » concernant les pays soumis à révision.
Méthodologie de travail
Sur la base de la liste de pays qui seront assujettis à révision lors de la 14ème session de l'EPU, les membres de la plateforme ont identifié les pays sur lesquels ils s'engagent à fournir des informations. Cela a permis d'identifier à l'intérieur de la plateforme des 'groupes par pays'. Chacun de ces groupes a nommé une personne de contact chargée  de faciliter le travail et la coordination du groupe pour la rédaction de l'intervention écrite conjointe concernant le pays concerné. De plus, tous les membres de la Plateforme partagent les outils élaborés pour le recueil des informations auprès de leurs propres membres sur le terrain ainsi que des suggestions pratiques pour l'optimisation des ressources résultant de leur expérience concrète.
La valeur ajoutée
La Plateforme EPU promue par le CCIG offre un espace de partage ouvert à tous qui permet, d'une manière simple mais efficace, d'apprendre l'un de l'autre. Cela pour la réalisation d'un but commun : l'avancée des droits de l'homme partout dans le monde sans aucune distinction quelle qu'elle soit.