The International Catholic Center of Geneva (CCIG) organized a meeting between the UPR Platform members and representatives of the OHCHR.
The meeting took place on Wednesday, December 12th, 2012  and was attended by representatives of 13 NGO members of the UPR Platform.
The meeting was led by Mr. Christophe Peschoux, Chief UPR team/Field Operations and Technical Cooperation Division (FOTCD) OHCHR, and a group of Human Rights Officers: Ms. Marlene Alejos, Mr. Juan Pablo Vegas, and Ms. Speideh Mohadjer.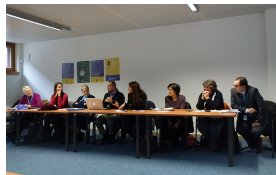 Given the new challenges raised by the 2nd UPR cycle, the goal of this meeting was to provide the members of CCIG UPR Platform with key information to improve their contribution within the UPR as well as to share with the OHCHR difficulties encountered by NGOs while working with this specific mechanism.
The meeting was structured around a list of questions prepared by the members of the UPR Platform.
The main issues of the discussion were: criteria for preparation of the OHCHR SummaryReport of stakeholders' submissions, the differences between the working group report and the outcome report, trends in States' performance during review sessions, how to ensure the effective monitoring of UPR recommendations on the ground, and how stakeholders can best prepare UPR submissions.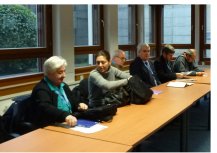 Moreover, the platform members discussed some of their concerns about the UPR process and the challenges that they face.
The OHCHR representatives responded to these concerns and introduced strategies to deal with the difficulties of the process. They also emphasized the importance of the role of civil society members in the UPR process and encouraged their continuous involvement.